Cyber Safety for Individuals
Audience: Everyone
Overview
Our Individual Training is for a single individual looking to obtain their cyber safety certification to provide to an employer/organization as proof of training.
This cyber safety course teaches essential precautions and practices to defend against online threats such as social engineering, malware, cyber attacks, identity theft, and online fraud.
If you are an organization looking to train your employees, please go to the Cyber Safety for Organizations section.
Course Features
Online 24x7 self paced cyber safety training

Only $29.99 for an individual
2 Year nationally recognized certificate

Free retakes. You are guaranteed a certificate

Receive your cyber safety certificate immediately upon completion

Comprehensive and easy to understand training

Up to 90 days to take and review the training

English and Spanish versions included

30 day money back guarantee
Cyber safety Certification + Wallet Card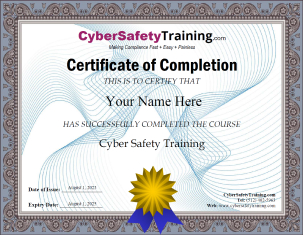 Print your cyber safety certification and wallet card immediately online upon successful completion of the course

For a Single Individual
test
$29.99
Course Description:
This cyber safety training course covers precautions and practices to protect against online threats like cyber attacks, identity theft, and online fraud. This includes such practices as using strong passwords, updating software, utilizing anti-virus software and firewalls, being vigilant against scams, and safeguarding personal information. By practicing cyber safety, individuals can safely and securely navigate the digital world around them.
Course Lessons:
What is Cyber Safety?

Protecting Yourself in Cyber space

The Hackers' Playbook

Key Takeaways

Final Exam
Course Overview:
| | |
| --- | --- |
| Audience | Everyone |
| Avg Completion Time | 1 Hour |
| Format | Online Self Paced Training |
| Access | Online Access for 90 Days |
| Certificate of Completion | Yes |
| Certificate Expiry | 2 Years |
| Wallet Card | Yes |
| Audio | Yes |
| Language | English & Spanish |
| License | Single User |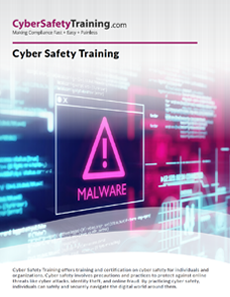 Frequently Asked Questions
General
Yes it does. Most courses use confusing terminology, leaving people feeling anxious and confused about what they need to do. Our approach focuses on practicality and creating a mental map of dangers and protection measures. We cover standard cybersecurity material in a common-sense manner and provide definitions at the end for easy understanding, making learning more effective.
You can take the final exam as many times as you need to pass and you can also take it multiple times if you want to try for a higher score. There is no charge for taking the final exam multiple times. You are guaranteed a certificate when you purchase a course.
For an individual account, you have up to 90 days from the date of signup to take the training. You can also login and review the training during those 90 days as well. For organizational training accounts there is no expiration date so any seats are good until used.
We don't offer an official eval program. However, we do offer a free demo of the first lesson on our website and you are welcome to signup for 1 seat to view it in full and if it does not meet your needs you are covered under our full money back guarantee.
Individual Training
For an individuals, they just need the Cyber Safety training which is $29.99 for a 2 year certificate.
Yes we do. That is our organizational training. Choose the Cyber Safety for Organizations item from the top products menu and go the Employee Training section.
No. Only if you have purchased organizational training. Our individual training is licensed to a single individual only.
The name on the certificate is independent of the name you use to register for the course. Our system will actually prompt the end user for their name on the certificate once they pass the final exam so that they can enter it exactly as they want it.
Organizational Training
Yes we do. Choose the Cyber Safety for Organizations item from the top products menu and go the Employee Training section.
Organizational training is for employers/groups that need to train their employees. It provides a single shared login that all employees can login to as well as group discounts starting at 10 seats and above.
Two seats. If you need to add licenses in the future, you can do so using the Add More Licenses link when you login to your admin dashboard.
Yes. To add additional licenses, login to your admin dashboard and click on the Add More Licenses link. There are no contracts and you simply pay as you go very much like a phone card.
Yes you continue to receive the same discount level on additional seats. So if you bought 25 seats, your pricing would be $23.99 for those 25 seats and also for any future seats you purchased. Additionally, as you continue to purchase seats with us we continue to discount you down in pricing as you hit the new tiers.
Yes we provide reporting free with the organizational training account. There are two types of reporting that we provide. The first is that you will receive an automatic email copy of each certificate generated under the account. The second is that we provide a real time training log that maintains a training log for you automatically. It will also allow you to regenerate a certificate from that Excel report at anytime in case you lost or misplaced a certificate.
Other Trainings Available